Why have it simple when you can make it complex?
We knew we were moving to Estonia this autumn and had planned for it since late 2018 but it wasn't one simple move, it had so many facets and we made it even more complicated when we decided to sell our apartment in London and buy another one there instead. So I've been packing and unpacking since June.
Any move is stressful but doing it with a toddler adds a certain element of chaos into the mix. An adult can put up with a mess a lot better than a toddler who needs a familiar routine and her favourite things around her. So it was quite difficult to pack up most of her toys and books and send them to storage in Estonia when we were doing our first move between the London flats. We even sent her bedroom furniture here and from August till end of October she was sleeping in a travel cot.
She took to the new place very well although I really struggled because everything that could go wrong with the move went wrong for us. We were delayed by four days meaning we had boxed everything up but were unable to move out. It's a very long distressing story where I felt if I could I would have sued some people for the moral damage. During those days she spent time with the nanny who took her to the zoo, museums and kept her occupied and happy.
We unpacked everything knowing very well that come October we'd be packing up again. But for two-three months we had to live like normal people so it was imperative to make the place look like home. Besides, we did have fewer things. Moving is a great cleansing process, for me anyway. There are two kinds of people when it comes to holding on to your possessions – hoarders, who are very sentimental to almost everything they own (my husband), and people who regularly give or throw things away (me). Also, is it just my husband or is this a "man thing" to collect all possible cables, modems and other gadgets knowing very well that most of this stuff will never be useful again? So annoying.
When the time was getting closer to our big move from London to Tallinn another cleansing process began. I started selling and giving away lots of things that we didn't plan to bring with us, then I packed seven boxes and had them couriered to Tallinn the day before our flight. I had to do all this on my own while my husband was away for most of October for work. I think I managed well, I packed little by little every day not to stress myself out too much and not leave anything till the last minute. What was left came as luggage – we flew business so we all had double the amount.
The difficult part is that we weren't able to move into our new purchased home immediately as the notary wasn't until early December, meaning we had to rent somewhere beforehand, meaning another move! But this one is the easiest because we can take our time. We got the keys a few weeks ago and have been slowly taking things in while the furniture has been arriving. Wardrobes will be built in January and kitchen will be installed early/mid-January as well so we'll still live on top of boxes for a while.
What I'm most happy about is seeing how well our daughter adapts to all of these changes. I suppose it might feel like travelling to her and we've done a fair share of trips with her already. We've now seen and experienced that she can sleep anywhere as long as she has her white noise sheep and familiar sleeping arrangements. She's fine in a travel cot, a strange bed, new smells, bedrooms that aren't as dark as her old one was, new noises… She sleeps! Hallelujah.
So, as seasoned "movers", I've gathered some practical tips: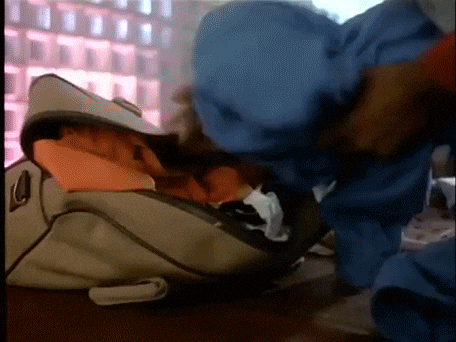 Get organised! Like, properly. Make lists, write everything down, arrange, re-arrange… I'm super organised but since having a child I've become somewhat forgetful so what really helped me was planning everything in my head first, writing it down and then actioning it.
Get rid of stuff! Way before the move, do the Konmari thing with your space and reduce clutter – donate, sell, throw!
Invest in some decent storage boxes. For us, Argos ones were rubbish, and the ones that arrived from Amazon lasted two moves – the one in London and the overseas courier from London to Tallinn.
Label like a boss! Label the boxes in as much detail as you can. Sure, you don't have to write where your underwear is but categories definitely help! This has helped us keeping some boxes closed until it's time to unpack them – e.g. our kitchen won't arrive till mid-January so anything kitchen related is neatly stowed away for now.
Do thorough research for finding a good moving company. We went with a more expensive option but were thoroughly happy how they handled the whole process from packing our things, transporting to Tallinn and storing until we were ready to receive them.
Learn to live on top of boxes for a while. For months I've been saying, it's somewhere in a box, so I know it's there, it hasn't gone missing, don't buy a new one, it'll come out of a box eventually.
Accept that some things will go missing. Somehow you've created a black hole! You think you remember packing something away only to discover later that it's disappeared somewhere. It might turn up later but then it might not… 😀
So, we've (almost) survived three moves in five months. The last one is almost over but we're planning to be out of the rented flat just before Christmas, leaving us only a few days to move everything across. It's been an organised mess, accepting that half the stuff is hidden away in boxes and there's no reason to dig much out once we've started the last unpacking process in our final home in Tallinn. It's been mentally very draining, constantly running lists through my head and making sure that our daughter is comfortable and has everything she needs. And I just hope we're done with moving for quite a few years as I've no desire to experience it again any time soon.